Transportation
Leaders.
Connecticut's recognition program for organizations who distinguish themselves by contributing to efforts to reduce traffic congestion and harmful auto emissions that cause climate change.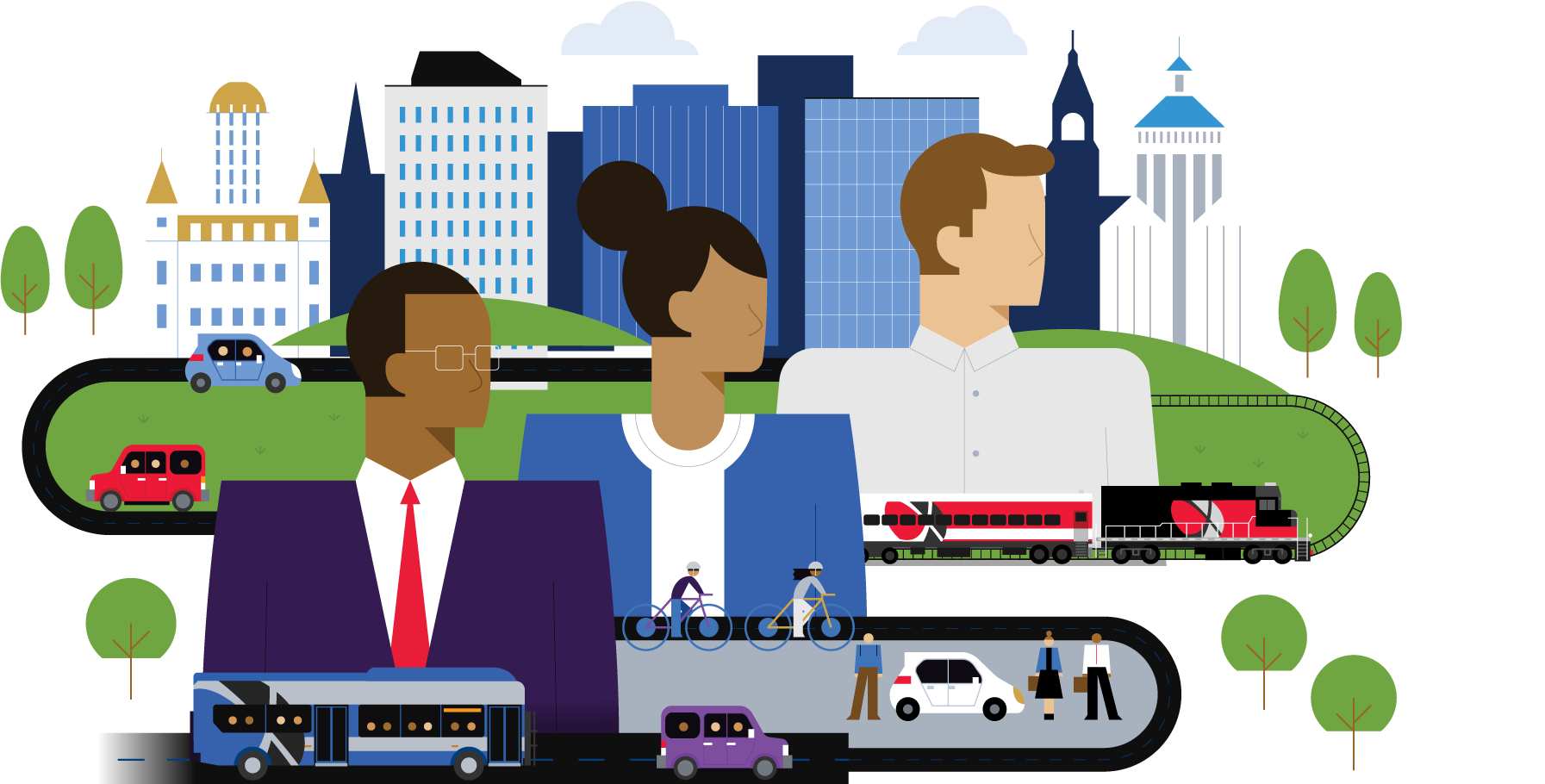 The CTrides Transportation Leaders Program
Transportation Leaders are recognized for their efforts to encourage their employees to drive to work alone less by using greener commuting modes like public transit or carpooling.
Becoming a Transportation Leader requires an annual commitment to work with CTrides to educate, encourage, and incentivize employees to use greener modes. This commitment is recognized at several levels of achievement.
Entry-level Transportation Leaders who host up to 4 activities are Bronze members. Members achieve Silver status when they conduct 5 or more activities. Gold members host 9 or more activities. Organizations that become Transportation Leaders and work with CTrides reap the many business benefits and civic rewards that result from making Connecticut a better place to live and work.
Being A Leader Has Its Benefits
For you:
Lower Attrition – Employees who leave a job because of a bad commute cost Connecticut employers over $700 million a year*
Reduce Absenteeism – Commuting woes for Connecticut employees result in the loss of more than 932,000 days a year from absenteeism*
Gain Statewide Recognition – Receive recognition publicly and at an annual event for your leadership
For your community:
Healthier environment – The largest contributor to greenhouse gas emissions causing climate change (28% of all emissions) is vehicular use*
Reduce traffic congestion – Reducing the number of cars on the road improves travel time and lowers employee commuting stress
Improve Health – The surrounding community is healthier and your employees arrive at work less stressed and more productive when there is less driving and pollution
*Source: Redstone, Santhanam and Macchi, "The Impacts of Commuting Woes on Retention and Productivity in Connecticut", AECOM, National Transport Economics Practice, April 2020
Ready To Become A Transportation Leader?
To be eligible, your company needs to meet the following requirements:
1. Assign/identify a single point of contact within your company
2. Engage in one or more eligible activities:
Conduct a CTrides commuter survey
Provide commuting information to all employees
Provide CTrides commuter information to new employees
Offer a free CTrides Emergency Ride Home benefit
Host annual event
Host a Try-It Day event for employees to try out a greener commuting mode
Establish a telework program
Offer a pre-tax commuter benefit
Provide preferential parking for carpools or vanpools
Establish a flexible work schedule program
Provide on-site amenities to support greener commutes
Distribute transit passes and/or U-Pass CT
Offer incentives to use greener ways to commute
Operate or subsidize an employee shuttle
Apply for recognition as a bike-friendly business/community
Offer a tax-free subsidy for transit or vanpooling
Promote the use of CTrides services externally
Develop commuter origin map