The CTrides Emergency Ride Home (ERH) Program
The CTrides Emergency Ride Home (ERH) Program is a service provided by the Connecticut Department of Transportation for employees who work in Connecticut and who regularly use a qualified greener commute to work. If an unexpected emergency arises, the ERH Program will reimburse commuters who meet the guidelines below for their trip up to four (4) times a year.
Benefits
Program flexibility – Trips can be taken to a home, a park and ride lot,
or to a child's school, among others. Eligible modes from work include
on-demand ride services (Uber or Lyft), taxi, or a ride with a coworker
Generous allowances – Four reimbursements per year with a maximum of $200 allowance per trip
Easy online reimbursement process
CTrides handles administration and trip reimbursement
Participating Organizations
Search to see if your company participates in the CTrides ERH Program. If you would like your company to be signed up for the Emergency Ride Home Program, please get in touch.
#
a
b
c
d
e
f
g
h
i
j
k
l
m
n
o
p
q
r
s
t
u
v
w
x
y
z
3PL Worldwide
Albea
Albertus Magnus
Amazon Sorting Center (Wallingford)
CARTUS
Center for Latino Progress
Central Connecticut Coast YMCA
Chabaso Bakery, Inc.
Connecticut Children's Medical Center
Connecticut Department of Developmental Services
Connecticut Department of Economic and Community Development
Connecticut Department of Energy and Environmental Protection (Hartford)
Connecticut Department of Energy and Environmental Protection (New Britain)
Connecticut Department of Public Health (Hartford)
Connecticut Department of Rehabilitation Services
Connecticut Department of Revenue Services
Connecticut Department of Social Services (Hartford)
Connecticut Department of Transportation
Connecticut Green Bank
Connecticut Innovations
Connecticut Mental Health Center
Connecticut National Guard
Connecticut State Insurance Department
Connecticut Valley Hospital
Connecticut Valley Industries
Conning Inc.
Continuum of Care Inc.
Datto, Inc.
Gateway Community College
Global Steering Systems
i2Systems
IFG Companies
Job Corps New Haven
Key Bank – New Haven
Konica Minolta Business Solutions
Law Offices of John Andreini
Naval Submarine Base New London
Office of Policy and Management
Office of the Attorney General
Office of the Secretary of the State
Office of the State Comptroller
Pathway Lighting Products, Inc.
Pierce Care
Pitney Bowes (Danbury)
Pitney Bowes (Shelton)
Pitney Bowes (Stamford)
Post University
RGIS
SEA Corp.
SeeClickFix
Shipman & Goodwin
Tauck Tours
The Hartford
The Jackson Laboratory
Thule Inc.
TSKP Studios
U.S. Department of Housing & Urban Development
U.S. District Court (Connecticut)
UConn Avery Point Campus
UConn Hartford
UConn Health Center
UConn Law School
UConn School of Business
UConn Stamford
UConn Storrs
UConn Waterbury
Vibrant Health
Voya
Waterbury Gardens for Nursing and Rehabilitation
Wesleyan University
West Hartford Health and Rehab
West Haven VA
Wiggin & Dana, LLP
Workers' Compensation Commission
Yale University
Yale-New Haven Hospital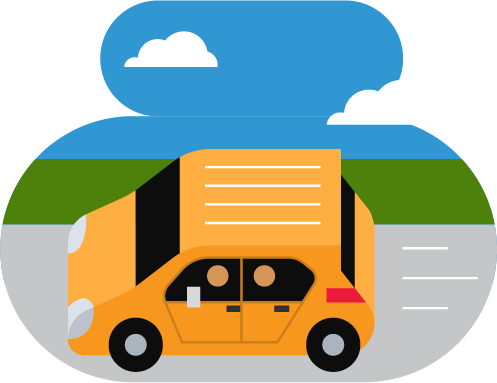 Steps to follow when an emergency arises:
Verify that your trip is eligible and meets program guidelines.
Arrange for emergency transportation.
Take the trip, pay for the emergency ride, and keep the receipt!
Click here to submit reimbursement request
Thank you. Your message has been sent.
Terms & Conditions
Hartford Express Bus riders who use a monthly or 31-day pass
Hartford Express Bus riders who use a registered Go CT Card for fare payment and have taken 34 or more trips within the previous 31 days
Rail parking shuttle commuters going to/from the Westport, South Norwalk, and Greenwich train stations that use a monthly ticket
CTrail Hartford Line Monthly Pass holders
CTrail Shore Line East Monthly Pass holders
Carpoolers whose employer has registered for the ERH program
Vanpoolers whose employer has registered for the ERH program
Bicycle riders whose employer has registered for the ERH program
Registered Go CT Card users who have taken 34 or more trips on a Hartford Express Bus route within the previous 31 days
Covered Emergencies
Unexpected personal or family illness/emergency
Unexpected mandatory overtime
Vanpool / carpool driver has emergency or unscheduled overtime
Vanpool breakdowns
Building evacuation or shutdown due to unexpected emergency
Uncovered Emergencies
Rides to work
Personal errands or pre-planned appointments
Scheduled overtime
Scheduled / unscheduled vanpool maintenance
Weather-related events
Transit systems delays/closures
On-the-job injury
Shift times that end outside of transit service hours
Acceptable Destinations
Home
Park & Ride lot or transit station where vehicle is parked
Child's school or day care
Medical facility
Interim stops are accepted if they are part of the emergency (child's school then home)
Trip Allowance
An individual can submit up to four (4) reimbursement requests per fiscal year (July 1 – June 30)
There is a max of $200 allowance per trip (commuters may submit documentation for rides over $200, but will only be reimbursed $200)
Eligible Modes
Taxi
On-demand ride services
Co-worker reimbursement (at federal mileage reimbursement rate)
Additional Guidelines and Restrictions
Students are only eligible for the program if they are a monthly Hartford Express Bus Rider who uses a monthly or 31-day pass
Students are also eligible if they use a registered Go CT Card for fare payment and have taken 34 or more trips on a Hartford Express Bus route within the previous 31 days
Reimbursement requests must be submitted within 30 days of the trip.
A qualified trip expense exceeding $200 will be paid at the capped amount
The ERH program is not to be used for emergency medical care in lieu of an ambulance or other appropriate medical transport service or for work-related injuries
Commuters whose trips or emergencies cannot be verified will not be reimbursed for their expense
Rail parking shuttle commuters only – Rides are available to or from Westport, South Norwalk, and Greenwich stations, whenever New Haven Line trains are running and shuttles are not
The ERH program may be changed at any time without notice and reimbursement requests do not guarantee payment
Only eligible for employees who work in Connecticut at their organization's Connecticut location(s)